by Dick Williams, GREENGRACE Co-Lead
Green change at the Episcopal Church of the Holy Covenant started with Bernadine Coates. Working with Interfaith Partners for the Chesapeake (IPC), she connected with Blue Water Baltimore which conducted a water audit, and guided church leadership through the process of implementing stormwater management projects on its grounds.
IPC met with a large Holy Covenant crowd to help them understand why reducing stormwater runoff and its ill effects on our steams and rivers is our moral responsibility as Christians. Attendees were guided through a process for envisioning the church as a vehicle for healing the environment–and to envision themselves as the change they want to see. Immediately after that meeting, one of the attendees walked out to the parking lot and, noticing the downstream storm drain clogged with trash and leaves, cleaned it out right then and there! Change was taking place already.
But, church green leaders didn't stop there. Several went to Annapolis for the Environmental Legislative Summit in January 2017 to learn more about environmental stewardship while lobbying for more of it.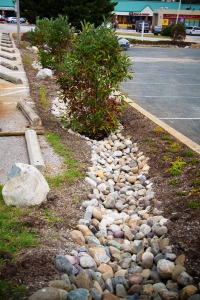 An assessment of the church's combined 23,000 sq. ft. of surface parking and roof showed that 650,000 gal. of stormwater runs off the site annually. $72,000 in grant funds for the design and implementation of two rain gardens was obtained. A Blue Water Baltimore staffer supported rather than led the green teamers in their application for funding.  The congregants have been patiently and steadily working on this effort for about 4 years.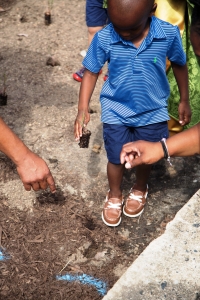 The dedication occurred in September, 2019. The completed project will mitigate an estimated 25% of the overall impervious surface on the property.  Congregants will meet Saturdays for a month to maintain the newly completed bioswale.
Church green leaders continue to otherwise engage their fellow congregants as "change agents" – on its grounds, in its messaging and in the halls of power.
https://images.yourfaithstory.org/wp-content/uploads/sites/5/2019/09/27084443/Covenant_3.jpg
2581
3872
dwilliams
https://s3.amazonaws.com/mywt5-files/wp-content/uploads/sites/93/2019/08/08093321/oriz-horiz-logo-300x116.jpg
dwilliams
2019-09-28 10:20:29
2019-09-28 10:29:29
A Notable Creation Care Achievement by a Determined Parish